Iowa Website Design ~ by PPP Design
When you choose PPP Design in Denison, Iowa to design your website you know you will be getting an
Iowa Website Design Company
with Iowa values.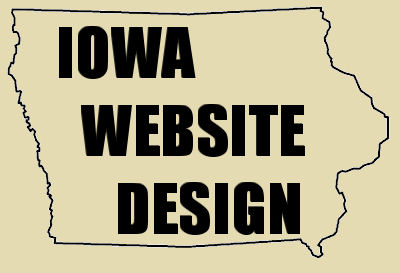 PPP Design Professional, Affordable Iowa Website Design
You are involved in the web design process. You instruct us regarding the style, colors, and "feel" you want for your Iowa website design or application. This helps us create an internet design that reflects your Iowa business or community. We develop a sample of the initial web design and you let us know what you like or don't like, then we make the necessary changes to guarantee that you are satisfied. This is one way that we apply Iowa values to your website development.

A brief list of Iowa Website Designs developed by PPP Design.

RS Waste
Defiance, Iowa Professional Trash Removal Service
Denison Livestock
Denison, Iowa Auction Company
Denison Links
Denison, IA Business Website Directory
Monarch Country
Denison Iowa High School Activities, Scores, Schedules, Highlights and More...
Manilla Iowa
The official website of the City of Manilla Iowa
Our Savior Lutheran Church
A Missouri Synod Lutheran Church in Denison, IA
Chamber & Development Council of Crawford County
Chamber and Economic Development Office in Crawford County IA
Event Satellite Promoter
Unique Communication System located in Iowa.
Shelby Iowa
The official website of the City of Shelby Iowa
Midwest Fieldturf
Field Turf company serving the midwest with offices in Denison and DesMoines IA
Thermalfab
A Denison IA Metal Fabrication Company
Schleswig, Iowa
The official website of the City of Schleswig Iowa
Debonair Day Spa
Schleswig Iowa full service Salon
Rice Trailers
Denison Iowa Trailer Manufacturer
Reynold's Clothing
Mens Clothing business serving western Iowa
Carroll Machinery Auction
Carroll Iowa Farm Machinery Auction
Automotive Warehouse Distributors, Inc.
Council Bluffs Iowa Auto Parts Distributor
Petersen Mfg. Waterers
Western Iowa Livestock waterer sales and service
Petersen Manufacturing
Denison IA concrete and leisure furnishings manufacturer
BT Computers LLC
Western Iowa Computer Repair and Sales
Crawford County Home Health & Hospice Agency
Crawford County IA Home Health and Hospice Department
Commercial Service Supply
Iowa Outdoor furnishing sales
Mapleton, Iowa
The official website for the City of Mapleton Iowa
Midwestern Land and Auction
West Central Iowa Real Estate and Auction Company
Magik Kleener Sales
Harlan Iowa grain cleaning machinery sales
St. Paul Lutheran Church
A Missouri Synod Lutheran Church in Ida Grove, IA
First Security Realty
Real Estate Company serving western iowa
Chapman Metering
Electric meter repair company serving the midwest from Avoca, Iowa
KDSN RADIO
AM and FM Radio Stations Serving West Central Iowa
Sullivan Cattle Company
Next Generation Cattle Company in Dunlap Iowa
Smith Outreach
Kenya Childrens Ministry located in Ida Grove Iowa
Trinity Lutheran Church
A Missouri Synod Lutheran Church in Shenandoah, IA
Immanuel Lutheran Church
A Clarinda Iowa Missouri Synod Lutheran Church
United Presbyterian Church Denison IA
Denison Iowa United Presbyterian Church
Ampride Truck Plaza
Denison IA Truck Plaza
Denison Soccer Club
Youth Soccer Club in Denison, Iowa
Global Machinery Solutions
Manning, IA Machinery Sales
Rice Fuel Trailers
Fuel Trailer Sales in Denison, IA
Golf for Justice
James Justice Memorial Golf Tournament Manning, Manilla Iowa
Wall Lake Baptist Church
Wall Lake Iowa Baptist Church
St. Matthew Lutheran Church
A Mapleton Iowa Missouri Synod Lutheran Church
JR Gunsmithing
JR Gunsmithing can fulfill all of your firearm needs from general repairs, full gun refinishing, customization and parts fabrication.
Wings Repair and Towing
Truck Service Center near Avoca, Iowa
Panama Transfer
Panama Transfer is a family owned freight company located in Panama, Iowa.
Signs by Ed
Signs by Ed in Manilla Iowa specializes in Vehicle Signage, Hand Painted Graphics, Pin-Striping and other techniques.
Carlyle Memorials
Carlyle Memorials is a full service monument company, dedicated to providing western Iowa families with all their memorial needs.
el Jimador Mexican Grill
El Jimador Mexican Grill Serves Authentic Mexican Cuisine and more in Denison, IA.
Franck and Sextro PLC
Franck and Sextro PLC, is a general practice law firm with offices in Denison IA and Manning Iowa.
Appliance Store & Cabinet Factory
Denison Iowa Appliance and Cabinet Store
Reliance Construction of Iowa
Schleswig, Iowa steel fabrication / installation company.
Iowa Agicultural Bio Fibers
IABF is a certifiable green company that produces extraordinary all natural products in Harlan, IA from specially processed crop residue, byproducts and special additives
Denison Volunteer Fire Department
The Denison Iowa Volunteer Fire Department proudly protects about 10,000 people living in an area of 110 square miles.
Immanuel Lutheran Church Schleswig
Immanuel Lutheran Church is an Lutheran Church-Missouri Synod church located in Schleswig Iowa.
Easy Way Cattle Care, LLC
Easy Way Cattle Care, LLC in Arthur, IA
Crossroads of Crawford County
Christian community outreach in Crawford County Iowa
Your brand identity is key in promoting your Iowa business and we strive to maintain and enhance your brand so your business becomes even more well known in Iowa and around the world.

Use the Contact link or request a quote to get more information or to start designing your Iowa Website today.